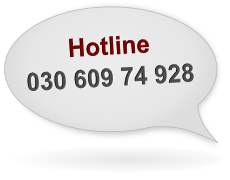 Real Estate Agent for Berlin and the Berlin area – Capital City Agent
We sell your property without any ifs or buts ...
As one of the leading real estate agents for Berlin, Potsdam and the Berlin area, we can provide you with expert assistance for all your real estate needs, such as buying or selling houses, apartments or plots.
We specialise in marketing properties of all kinds to both domestic and international customers.
From our sales services to our extensive database of national and international customers, from construction supervision to individual customer management and tailor-made financial solutions – we have everything covered.
We are passionate about real estate. Professional service and satisfied customers are our number one priorities.
We look forward to hearing from you and would be happy to help!
Do get in touch!
Bernhardt & Wiesner GbR
Kurfürstendamm 30
10719 Berlin

tel : 030 / 609 74 928
fax : 030 / 773 29 844
This email address is being protected from spambots. You need JavaScript enabled to view it.

Real Estate Agent Training

Enter the market for tomorrow today. We offer training.

more ...